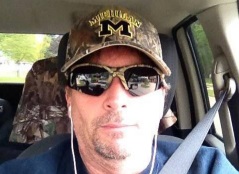 The Founding Fathers of the USA knew that, in order for the democratic process to work, an informed and educated public was necessary. If he electorate have no idea what they are doing or what a candidate stands for, then the system quickly breaks down and the public will regret their decision.
Ignorance, stupidity and a lack of education works against the public and the nation in many ways. It can be said that no one really likes or wants Hillary. Yet, for some reason, you can hear Liberals insist that they will never vote for a Republican. Why is this? It can be observed by CNN as well as on late-night talk shows, Liberals like to paint Republicans as uneducated home schooled fools who think their GED levels the playing field.
Outspoken creationist activist, Christopher J. Peterson, does more to taint the image and work against the Republican goals of keeping Hillary out of the white house. He has labeled scientific theories as being works of the devil. Either he is a Liberal Spy, or he is doing their work. I challenge him to debate his position here on a real web forum instead of on social media. I am confident he lacks the testicular fortitude or the expendable income for the miniscule registration fee.